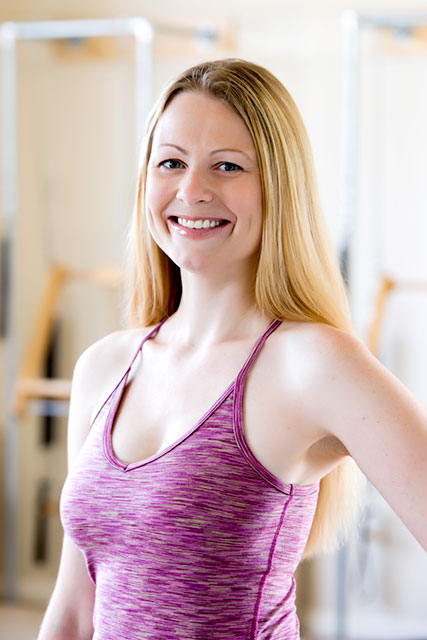 Audrey acquired a fundamental understanding of the integrative roles of fitness and nutrition in healing and optimizing healthy bodies through classical dance training and performance. While in college, she discovered her keen interest science: specifically anatomy, physiology, and biochemistry. Her study of Pilates imparted an appreciation for the intrinsic rewards of helping others learn how to achieve their goals for fitness, nutrition, and vibrant health.
Education and Training
After earning a Bachelor of Arts degree from SUNY Purchase—where she studied Authentic Pilates under Romana Krysanowska, Joseph Pilates's world-renowned protégé—Audrey continued her studies by earning a Bachelor of Science in Dietetics from Montclair State University, and became a Registered Dietitian Nutritionist (RDN) through the College of Saint Elizabeth. Additionally, she holds a certificate in Integrative Nutrition from the Teachers College at Columbia University.
Since her Pilates study with Krysanowska, and Master Trainers Sari Mejia Santos, Michael Fritzke, and Ton Voogt, Audrey has accumulated over 10,000 instruction hours with clients: teaching the strength, flexibility, coordination, and balance exercises that define the Pilates Method of Body Conditioning. In 2001, she became a certified Gyrotonic® instructor, studying under Master Trainers Leda Franklin, Jennifer Daly, and Chantal Deeble-Jackson, completing her certification with Julio Horvath, the creator of Gyrotonic®. In 2022 Audrey completed the Pilates Professional Advanced Teacher Training with Kathi Ross Nash.