Introductory Package
Our Introductory Package is a great way to acquaint yourself with Pilates or Gyrotonic®. The package includes six private sessions or five private sessions and three tower mat classes. In just a few short sessions, you will look and feel better. From improving your golf or tennis swing to more enjoyably playing with your child or grandchild, the movements and principles that you learn in these sessions can be incorporated into your daily routine.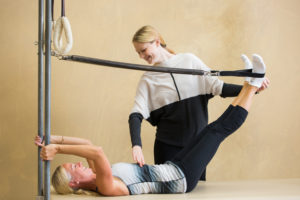 Introductory Package
$410.00
Private Sessions
In a Private session, you will be instructed on a variety of equipment true to the original design of the method's creator. Your personal instructor will design a routine to meet your particular level of coordination, strength, and goals. This allows you to work at your own pace while learning the principles, movement, and language of Pilates or GYROTONIC®. Your instructor will make adjustments in your form, alignment, and quality of movement that will make a difference in your posture, breathing, strength, and daily movement. Both methods require focus and visualization, so you may find that your session provides an escape from your ordinary routine and concerns.
Private sessions can be done virtually or in the studio. They are especially recommended for beginners, those with injuries, or limited experience with movement or exercise.
Single Session
$90.00
Four Sessions
$345.00
Eight Sessions
$650.00
Semi-Private Sessions
A semi-private session is two individuals working with one instructor. In your session you will use a variety of Pilates equipment and mat work is almost always included. Duets work very well for friends or spouses who wish to workout together.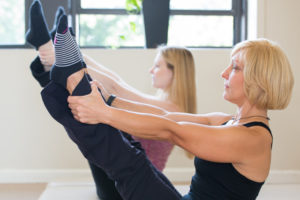 Single Session
$55.00
Four Sessions
$190.00
Eight Sessions
$380.00
Tower Mat Class
Tower mat class is up to three participants to one instructor. Tower classes are the best of both worlds utilizing the tower, or wall unit, with low impact springs and resistance training in conjunction with traditional mat work. This flowing workout targets the whole body.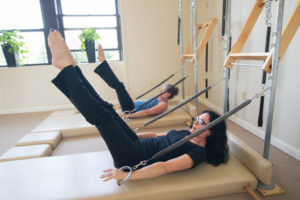 Single Session
$40.00
Four Sessions
$140.00
Eight Sessions
$280.00
Virtual Mat Classes
Mat classes are held LIVE virtually via zoom. Mat sessions use a series of floor exercises that are a culmination of the Pilates philosophy. Mat work is specifically designed to challenge the abdominal, hip and shoulder muscles while using your own body and gravity for resistance.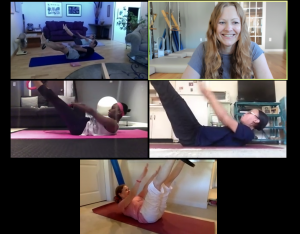 Single Session
$25.00
Four Sessions
$80.00
Eight Sessions
$160.00