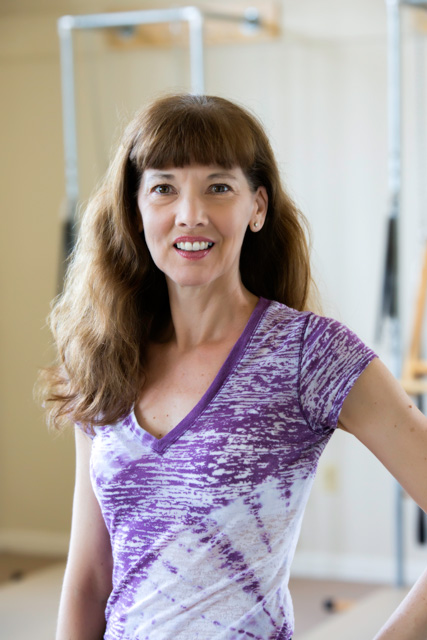 Kathy Cole Easton
Gyrotonic Instructor
Kathy is certified in both GYROTONIC® Machines and GYROKINESIS® exercise and has been training in the technique since 1989, including instruction with Juliu Horvath, the inventor of the GYROTONIC EXPANSION SYSTEM®. Kathy has also trained in the GYROTONIC® Therapeutic Application Courses, including the pelvic girdle, shoulder girdle & scoliosis program with Paul Horvath, a Physical Therapist, and a former Olympic Gymnastic Coach.
Previously a professional dancer and dance instructor, Kathy began working in the fitness world in New York City in 1997 with an understanding of the powerful connection between body and mind. She earned her Fitness Instructor Certification from Marymount Manhattan College in New York City. She has worked with several outstanding exercise physiologists, physical therapist and chiropractors. Kathy is also certified in Pilates and the ancient healing art of Reiki. Kathy currently works in both New Jersey and New York City as a GYROTONIC® & GYROKINESIS® Instructor as well as a Personal Trainer in private homes. Kathy also specializes in teaching GYROKINESIS® and Pilates exercise to children and has just begun her 8th year at Far Brook School in Short Hills. She finds teaching children an absolute delight. Kathy is specialized in fitness for women during midlife and in fitness for seniors. Currently her youngest client is 4 and her oldest is 85. She loves working with such a diverse clientele and finds fitness is such an important part of our health and wellbeing at every age.
The GYROTONIC® & GYROKINESIS® method is a revolutionary exercise system that incorporates key elements of yoga, dance, swimming and tai-chi. This methodology simultaneously increases your strength, flexibility and coordination while educating the body to move with fluidity, relaxation and power. It also allows one to work the entire body through seven natural elements of the spine. Postures are not held for long periods of time. Instead, postures are smoothly and harmoniously connected through the use of the breath, making exercises appear and feel more like a dance and swimming than like traditional yoga. GYROTONIC® & GYROKINESIS® exercise eliminates daily stress, increases musculature endurance and reduces stiffness throughout your body.
Kathy's personal discovery of the GYROTONIC EXPANSION SYSTEM® began when she found Juliu Horvath's, White Cloud Studio in NYC in 1989, at the time Juliu's method was called "Yoga for dancers". Kathy was considering leaving the world of dance and was thrilled to discover the world of what is now called the GYROTONIC EXPANSION SYSTEM®. She was also dealing with her own issues of pain and discomfort which was a result of a neck injury at the age of 7. After, seeing doctors and Chiropractors without much permanent relief, she began taking "Yoga for dancers" classes a few times a week. This class really turned on the light bulb of understanding how to balance her body and correct her alignment, which than alleviated her neck pain. She was feeling better than ever and was inspired to become certified in both what are now called the GYROTONIC® & GYROKINESIS® methods. She wanted to be able to teach others this method of movement, which allows you to feel great both during and after a session. Whether you just want to get fit, increase your fitness level or help to alleviate chronic pain, the GYROTONIC EXPANSION SYSTEM® is a method that works for anyone, from an elite athlete, golfer or dancer to a basic beginner, just wanting to feel great and get fit. Kathy has also used the system for people with disabilities and post rehab. She is extremely thrilled to be working with a child with Cerebral Palsy for the past 3 years and she says: " It is probably the most rewarding work I have ever done… To see the amazing changes in this child are so thrilling and inspiring. It is why I so love this method and so love teaching it."